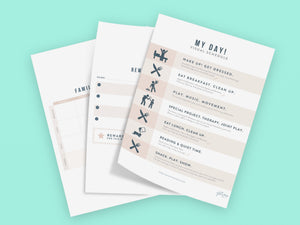 At Home Bundle
Regular price $15.00 Sale
 Our "At Home" bundle was created to support you in these days at home. The village is virtual and days can be long. This bundle will help you develop and implement a routine with your little one.
Visual schedule- Teaching our little ones about routine takes practice. This visual schedule is designed to provide predictability to your little one's days. It includes images and songs to help your child transition to new tasks and see what's coming next.
Meal planner-  Staying at home all day means you will have a full day of feeding your family. Planning ahead can help you avoid hunger meltdowns and long stares into the refrigerator. We even included a space for snacks, because isn't every parent making 1,000s of snacks a day? 
Reward Chat- Use this as a daily behavior reward, therapy or potty training. If you and your little one are working on reaching a goal, this sheet can help incentivize them to meet your expectations. 
Once you place your order, you will receive an email with the PDF download of these documents. Print them off and put them to work! I suggest you laminate them. You can use a dry erase markers to put them to work long term in your home. We hope these help you have a smoother day ahead.